Business Promotion Strategies
Score Big with Sports Promotional Items: Promote Your Brand Above the Competition
by Mason patriotickicks on Jun 16, 2023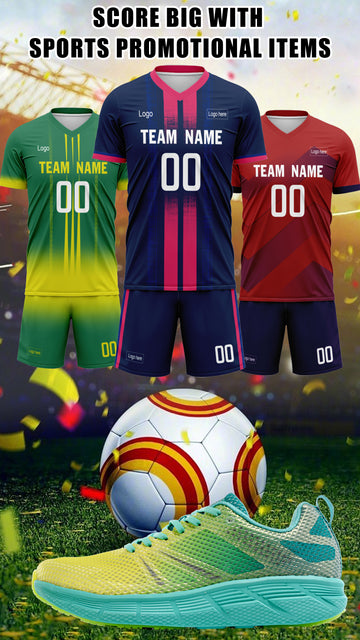 Imagine a stadium full of loud, cheering fans, a tense, exciting environment, and the thrill of competing. Imagine that your brand was front and center in this exciting sports environment. Sounds interesting, doesn't it? Well, you can make this dream come true with sports promotional things and put your brand in the lead. In today's blog post, we'll talk about the ever-changing world of sports promotional things and how they can give your brand the edge it needs to take over the market. Get ready to dive into the exciting world where sports and marketing meet and take your brand to new heights of success.
Getting people to think of a brand:

Sports appeal to everyone, no matter where they are from, and bring people together. By tying your brand to sports, you can tap into this emotional link and make people think of your brand in a good way. Promotional items for sports, like branded jerseys, caps, custom sneaker and water bottles, let your customers show off your branding while doing their favorite sports. This helps people in your target audience remember your company and feel more loyal to it.


Increased Brand Visibility: Sports events, whether they are small games or big competitions, draw big crowds and get a lot of attention from the media. By giving away sports-themed promotional items during these events, you can make your business much more visible. When people wear or use your branded things, they become walking billboards and let a lot of people know about your brand. Also, having your brand at sports events opens the door to natural conversations and networking, which can help you reach even more people.

Long-Term Brand Publicity: Unlike traditional ads, which come and go, sports promotional items give your brand publicity over a long period of time. Think about things like branded sports gear or clothing that people use often. Whenever these things are used, your company gets more exposure and stays in the user's mind. This long-term exposure helps make a lasting impression, which makes it more likely that people will remember your brand when it's time to buy.

Targeted marketing: One of the best things about sports promotional items is that they can be used to reach people in certain groups. You can reach your ideal customers by sponsoring a local sports team or handing out things at a niche sporting event. For example, if your audience is made up of people who care about their health, partnering with a fitness event and giving out branded exercise accessories would be a good way to reach them. By tying your company to the right sports activities, you can reach the right people and make the most of your marketing efforts.

Engaging Customers in a Memorable Way: Sports promotional items offer a unique way to engage and connect with customers. Sports-themed events, giveaways, and loyalty programs can get people excited about your brand and make them feel like they're part of a community. These actions not only make customers happier, but they also make them more likely to tell others about the brand when they have a good experience. By giving your customers memorable moments with promotional items related to sports, you can build strong relationships with them and turn them into brand ambassadors.

Using the energy and excitement that comes with sports, sports promotional items could put your brand ahead of the competition. By tying your brand to sports and giving out relevant promotional items, you can create long-lasting associations with your brand, raise its exposure, and connect with your target audience in a meaningful way. Sports promotional items are a valuable part of any marketing plan because they give you long-term exposure and help you sell to a specific audience. So, put on your shoes, get in the game, and let sports promotional things help your brand win!