Blogs
Promoting Your Business with Patriotism:Effective Strategies to Promote Your Business with National Pride"
by Mason patriotickicks on May 25, 2023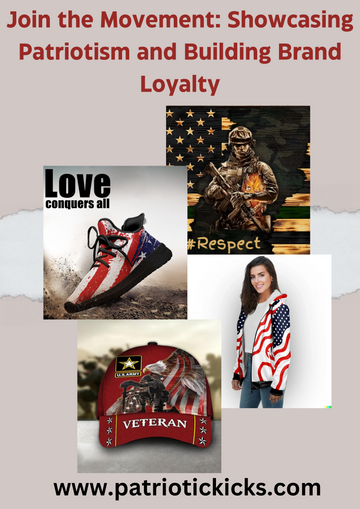 In today's highly competitive business world, it is essential that you find effective ways to promote your brand. Utilizing the power of patriotism is a strategy that can resonate significantly with your audience and elevate your business. By incorporating patriotism into your marketing efforts and using personalized sneakers, hats, hoodies, t-shirts, and bags, you can establish a strong emotional connection with customers and develop brand loyalty. In this article, we explore the most effective patriotic business promotion strategies.

Display patriotic designs and emblems: 

Incorporating patriotic designs and symbols into your products is an effective way to integrate patriotism into your business's promoting. Customise footwear, hats, hoodies, t-shirts, tote bags and other items with national flags, emblems, or iconic landmarks. These designs will immediately impact customers who are patriotic and proud to display their patriotism. Ensure that your website and marketing materials prominently feature these products and emphasize their patriotic values.


Customise Marketing Campaigns for Patriotic Events:
Patriotic occasions and events provide excellent promotional opportunities for your business. Whether it's the Fourth of July, Memorial Day, Veterans Day, or any other national holiday, your marketing campaigns should revolve around these themes. Offer special discounts or limited-edition patriotic collections with personalised footwear, hats, hoodies, t-shirts and bags, as well as other products that correspond with the event. Utilize social media platforms, email marketing, and targeted advertisements to engage your audience and generate interest for your campaigns.
            
Collaborate with Influencers and Community Groups:
Partnering with influencers who represent patriotism and have a large following may significantly boost the visibility of your brand. Collaborate with influencers who share your values and target audience in order to promote your personalized products. Involve yourself in local communities and organizations that honor patriotism. Donate a portion of your sales to relevant causes and sponsor local events. Such partnerships can generate positive publicity and demonstrate your brand's patriotism.


Use Social Media and User-Generated Content to Your Advantage:
Social media platforms offer an excellent venue for promoting personalised products and interacting with an audience. Encourage your consumers to share photos and videos of themselves displaying their patriotism while using or wearing your products. Create branded hashtags associated with patriotism and your company, and encourage users to share content using these hashtags. This user-generated content not only functions as genuine endorsements, but also increases your brand's reach through social media algorithms.


Improve Your Website's SEO:
To increase the reach of your patriotic products, optimize your website for search engines. Perform keyword research on personalized footwear, hats, hoodies, t-shirts, bags, and patriotism. Incorporate these keywords into your website's content, product descriptions, and meta tags in a strategic method. By optimizing your website for SEO, you increase its visibility in search engine results and attract more organic traffic from people actively searching for patriotic goods.




Promoting your business in a patriotic style can be an effective means of engaging your audience and boosting your brand. You can maximize the impact of your personalized products, such as sneakers, hats, hoodies, t-shirts, and bags, by showcasing patriotic designs and symbols, customizing marketing campaigns for patriotic occasions, collaborating with influencers and local communities, leveraging social media and user-generated content, and optimizing your website for search engine optimization. Embrace patriotism as the driving force behind your business promotion and watch your brand soar while resonating with customers who share a deep affection for their country.