Blogs
The Ultimate Sneaker Gift Guide: 10 Unique Ideas for Any Occasion and Person
by Mason patriotickicks on Mar 16, 2023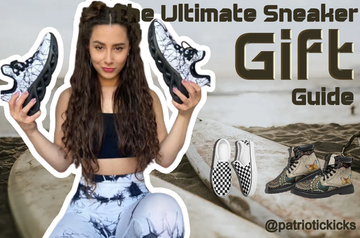 Sneakers are a classic footwear option that can be dressed up or down, making them the perfect gift for any occasion. There is a pair of sneakers for everyone, from running shoes to designer sneakers. Here are some sneaker gift ideas for different people and occasions:

Running Shoes: Running shoes are the ideal gift for the person in your life who enjoys working out. To make their workouts more comfortable, look for shoes with good support and cushioning.



High-Top Sneakers: High-top sneakers are a fashionable and useful gift for people who like to stand out. They offer ankle support and look great with both casual and dressy attire.


Slip-On Sneakers: Slip-on sneakers are a great gift idea for people who value convenience and comfort. They are easy to put on and take off and come in many different colours and patterns.


Classic Sneakers: Anyone who enjoys a simple, understated look will always appreciate a pair of classic sneakers. They can be dressed up or down, making them great for any occasion.


Sneaker Boots: Sneaker boots are a great gift for people who like to stay warm and fashionable in the winter. They offer the same support and comfort as trainers, but with added warmth and safety.


Skate Shoes: Skate shoes are a cool and useful gift for people who like to skateboard or spend time at the skatepark. They give you the grip and support you need for a safe and enjoyable ride.


Slip-Resistant Sneakers: Slip-resistant sneakers are a thoughtful and useful gift for people who work in jobs that require them. They offer the same comfort and style as regular trainers, but with added safety features.


Designer Sneakers: For those who appreciate high-end fashion, designer sneakers are a stylish and opulent gift. They're made with the best materials and have unique designs that will make people look twice.


Eco-Friendly Sneakers: If you know someone who cares about the environment, eco-friendly sneakers make a great present. They are made with materials that can be recycled and have a small effect on the environment.

Customized Sneakers: Finally, custom designed sneakers are a great gift for anyone who likes to express their individuality and stand out from the crowd. A one-of-a-kind pair of trainers can be made by combining different colours, patterns, and textures.


No matter the occasion or the person, there is a perfect sneakers just waiting to be given as a gift. So, go ahead and surprise your loved ones with a pair of stylish, comfortable, and useful sneakers!