Blogs
Back-to-School in Style: Unique Sneakers and T-Shirts for Your Unique Personality
by Mason patriotickicks on Jul 14, 2023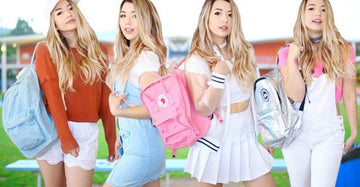 As the summer days start to wane and the anticipation of a new school year looms, it's time to start thinking about how to make a statement with your back-to-school gear. This year, it's all about personalized style—especially when it comes to unique sneakers and t-shirts that perfectly encapsulate your unique personality. From customized designs to standout trends, let's dive into the ultimate guide to making a fashion-forward entrance this school year.
The Rise of Personalized Style
In recent years, personalization has become a major trend in the fashion industry, and it's only gaining momentum. Brands have begun to recognize that consumers want to express their individuality through their wardrobe choices, and what better way to do that than with personalized t-shirts and sneakers? 
There are many benefits to embracing this trend—first and foremost, you'll have the chance to wear pieces that are truly one-of-a-kind. Personalized clothing and shoes also give you the opportunity to express your interests, hobbies, and personality traits in a visual way, making your back-to-school outfit a true conversation starter.
Stepping into Style with Personalized Sneakers
One of the most popular ways to incorporate personalization into your back-to-school fashion is through your footwear. Personalized sneakers offer a unique combination of comfort and style, ensuring you're ready to tackle anything from rushing between classes to after-school sports practices, all while looking your best.
Look for companies that allow you to customize various parts of the shoe, including the color, material, and even the laces. You could choose school colors to showcase your school spirit, or opt for a design that reflects your personal style—think bold prints, unique textures, or even an inspirational quote.
Making a Statement with Personalized T-Shirts
Personalized t-shirts are another great way to express your personality and make a bold statement this school year. The options are practically endless, from choosing the color and cut of your shirt to selecting the graphics or text that adorn it.                              
Your personalized t-shirt could feature anything from your favorite quote or band to a design that represents a cause you're passionate about. Not only is this a great way to make a fashion statement, but it also provides an opportunity to spark conversation and connect with like-minded peers.
How to Choose the Right Personalized Gear
When choosing your personalized sneakers and t-shirts, it's essential to consider your personal style and what you want your clothing to say about you. Here are a few tips to help you make the right choices:
Consider your interests: Your personalized gear should reflect what you love. If you're a music lover, consider sneakers with a design inspired by your favorite band, or a t-shirt featuring a lyric from your favorite song.

Think about your color preferences: Do you lean towards neutrals, or do you prefer bold, vibrant colors? Your color choices can make your personalized gear truly stand out.

Choose quality materials: Personalized doesn't have to mean compromised quality. Ensure the company you choose for your personalized gear uses high-quality materials that will stand the test of time.
Standout Trends for the New School Year
As you plan your personalized back-to-school wardrobe, here are a few trends to consider:
Sustainable fashion: More people are seeking out eco-friendly fashion options. Consider choosing a company that uses sustainable materials for their products.

Retro vibes: Vintage-inspired designs are making a comeback. Think '70s-style fonts on t-shirts or old-school sneaker styles with a modern twist.

Bright and bold: Don't be afraid to embrace color in your personalized gear. Bold color combinations can make a big statement.
In conclusion, personalizing your back-to-school gear is a fun and creative way to express your unique personality. So, as you gear up for the new school year, remember that your style is a reflection of you—so why not make it as unique as you are? With personalized sneakers and t-shirts, you're sure to make a fashion-forward entrance this school year.