Blogs
How to Become an Expert in Drop Shipping and Build a Profitable Business with Custom Clothing
by Mason patriotickicks on Jun 09, 2023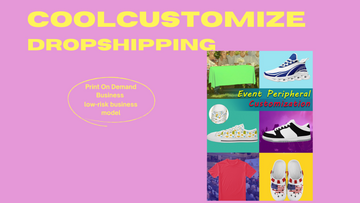 In the rapidly evolving world of e-commerce, entrepreneurs are always on the lookout for new opportunities to capture the attention of discerning consumers. One such emerging trend that's proving to be a game-changer is the marriage of custom-made clothes and drop shipping. This unique combination offers the promise of a profitable business model. In this article, we're going to explore the nuts and bolts of building a successful business with custom-made clothing through drop shipping.
Understanding Drop Shipping
Before we delve into the details, let's first understand what drop shipping is. Drop shipping is a retail fulfillment method where a store doesn't keep the products it sells in stock. Instead, when a store sells a product using the drop shipping model, it purchases the item from a third party—typically a manufacturer or wholesaler—and has it shipped directly to the customer. This means that the retailer never sees or handles the product.
The drop shipping model can offer significant benefits, including low start-up costs, less risk due to not having to stock inventory, and the ability to offer a wide range of products. However, for it to truly succeed, it's essential to offer products that stand out. This is where custom-made clothes come into play.
Leveraging the Power of Custom-Made Clothes
In a world that increasingly values individuality, custom-made clothes are becoming more and more popular. Consumers are drawn to the idea of wearing something unique, something that reflects their personal style and personality.
By offering custom-made clothes, your business is not just selling products; you are selling a personalized experience. You are allowing your customers to become a part of the creation process, choosing their own fabrics, styles, and details to create a piece of clothing that's truly theirs.
Building Your Custom-Made Clothing Brand
Starting a drop shipping business with custom-made clothes involves several steps. Here are some tips to help you build your brand:
Identify Your Niche: First, you must identify your niche. Do you want to focus on formal wear, casual wear, or a specific demographic? Your niche will guide your brand's identity, style, and the products you offer.

Find Reliable Suppliers: Once you've identified your niche, it's crucial to find reliable suppliers who can deliver high-quality products on time. Remember, in drop shipping, your reputation depends on the quality of the products you sell and the reliability of your suppliers.

Develop Your Online Store: After finding your suppliers, the next step is to develop your online store. Your website is your storefront, so make sure it's user-friendly and reflects your brand identity. Incorporate an easy-to-use platform for customers to customize their clothes.

Marketing Your Store: Once your store is up and running, it's time to market your products. Utilize social media platforms, influencers, and SEO to reach your target audience. Remember, content is king in online marketing, so provide valuable content that resonates with your audience.
Conclusion
Building a profitable business with custom-made clothes and drop shipping requires effort and strategic planning. However, with a carefully chosen niche, reliable suppliers, a compelling online store, and effective marketing, it's entirely possible to create a thriving business in this exciting space. As always, remember to keep your customers' needs at the forefront, because in the world of e-commerce